To get the most out of Allay, you should first know three key things:
Block all other light
Because other lights can irritate your eyes, make sure the Allay Lamp is the only source of light in the room to experience its full effect. Block ALL other sources of light – from windows, overhead lights, and devices with screens. 
Find the right place
Allay's brightness is easy to adjust, but if it still feels too bright, place your lamp where you're not looking at it directly. We suggest reflecting the light off of a wall and using the included shade to direct the light exactly where you want it.
Use for 30+ minutes
Most importantly, you should immerse yourself in Allay's glow at least 30 minutes to get its full effect. And even better, if you can spend two hours or more in the light, we think you'll be really glad you did. 
How Your Allay Lamp Works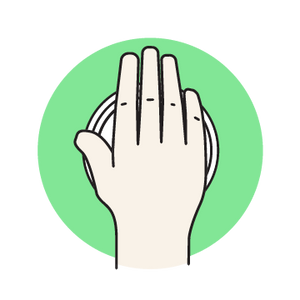 Turn it on
We've got you covered: to easily turn the lamp on and off, just cover the entire top panel with your full palm - even in the dark!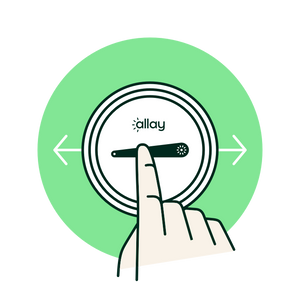 Drag to dim
Your light will always start at the lowest intensity. Drag your finger along the slider to change the brightness.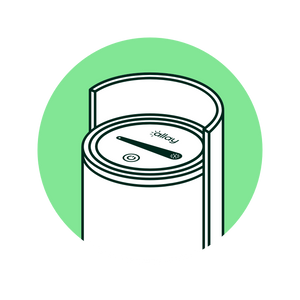 Snap for shade
You don't need to look directly at the lamp. Use the included shade to direct the light where you need it most.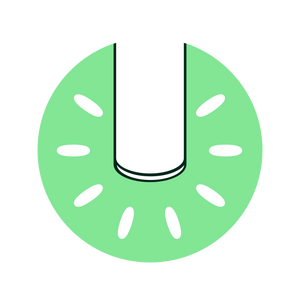 Let it shine
Or, place your lamp up high to light up the entire room.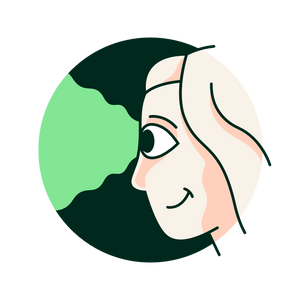 Go with the glow
Be sure to use Allay for at least 30 minutes. Most people like it so much that they spend two hours or more in its glow!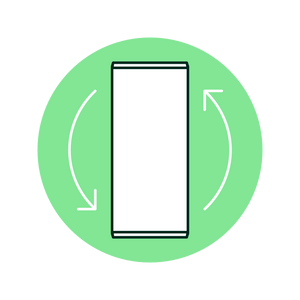 Flip to switch
Switch between Allay's soothing green mode and regular light mode by flipping the lamp.
Let us know how we can help.
As a researcher and professor at Harvard Medical School, I've been studying migraine and the physiology of the brain for over two decades. My colleagues and I created Allay to enable people to bring the soothing power of narrow-band green light into their homes, and we truly appreciate your being one of the first to make it a part of your life. If we can help you in any way, please let us know at founders@allaylamp.com.

— Prof. Rami Burstein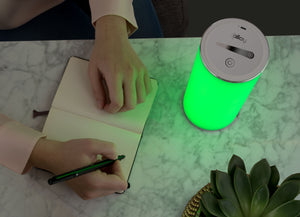 Frequently Asked Questions
These are some of the most common questions we get from people trying Allay for the first time. You can also visit our full list of FAQs here.
Does the lamp always help/make a difference on the first try?
Many factors can affect how you react to anything new. Make sure you follow the suggestion of using the lamp as your only source of light for at least 30 minutes. We also recommend trying it at least twice even if you don't love it immediately.
Can I look directly at the lamp?
You can look at the lamp as you would any other light. There is nothing that comes from the lamp that your eyes don't already take in every day. It just gives you the one specific band of light rather than all the bands you take in with everyday light. It may feel bright at first, so just as with any light, turn it on and adjust its placement and brightness to suit you.

If you look at the light directly you may notice that when you return to normal light, everything appears pink. This is normal and will go away in less than 30 seconds.
What if the light makes me squint or look away?
If using the lamp makes you feel like squinting or looking away, you can lower the brightness, use the shade to direct it away from your eyes, get used to it first with your eyes closed, or simply put it up high so it's out of direct eyesight. 
Is it okay to let my children be around the Allay Lamp?
Absolutely. They see the Allay band of light every day – it's just mixed in with all the other wavelengths they see. Just know they may find the green glow bewitching!
Is the Allay Lamp waterproof?
The Allay Lamp is not designed to come into contact with water, so please keep it a safe distance from your sink, bathtub, or any other water source.
How long does the lamp stay charged?
When fully charged, your Allay Lamp can shine for up to 32 hours at the lowest brightness. When it starts running low (the small dot near the plug will turn blue and start to blink), just plug it in and keep using it while charging.